iwebsitez.comŽ is a bespoke web design company in the UK that specialise in web development and e-commerce, CMS and static HTML websites.
Please see our other services:
Responsive Web Design
|
SEO Services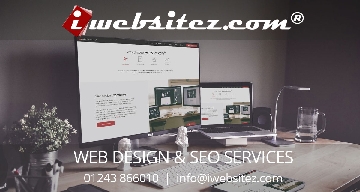 Social Media
Twitter
|
Facebook
|
Google+
|
LinkedIn
|
Instagram
|
YouTube
Areas Served
UK
Business Details
Website: iwebsitez.com
Servicing residential, commercial and industrial clients
Year established: 2013
Number of employees: 4
Quick Links
Social Network Profiles
Visit Our Website
Contact Us
Write a Review
We focus on utility and efficiency instead of just creativity




A website yes has to look pretty and behave properly but overall it has to retain it's visitors and convert in to sales at the end of the day. We pride ourselves in being experts at this and provide this service to you at reasonable rates.
| | |
| --- | --- |
| Our SEO services can help you to acheive page #1 rankings which will improve things like: increased online exposure, growing customer base, more traffic and increased revenue. | |
I picked out iwebsitez from a Google search looking for website designers geographically convenient to my activities. I'm secretary of a large(ish) prostate cancer charity and knew nothing about website design and not much about computers but, for various reasons, we knew that our old website needed to be replaced.
I knew what I wanted to achieve but didn't know how to achieve it. Pete and the team seemed to know what they were talking about so we set off. My ideas came up against technological limitations and I had to push to understand why things could not be achieved. The result, as always, is a compromise. The first stage is to get the site live and then we will consider adding bells and whistles.
Pete and the team are busy with various projects - always a good sign - but always seemed to have time to explain but you have to push. Like most computer people, they race on ahead bashing keys, talking in jargon with screens flashing past my eyes and sometimes have to be dragged back to explain in English what they are up to and why they are doing this or that. Occasionally I had to say 'but I want it this way'.
Also, you have to be clear about who is doing what. A couple of times days passed when they and I each thought the other was doing something.
However, having said that, I am pleased with the result, the price was reasonable and no-one in the charity has (yet) complained. I will have no problem in returning to iwebsitez for the next stages and would certainly recommend anyone to talk to them. You'll be pleased with the results you get.
I hired this company to perform some SEO work on my website, they started 4 months ago and I am now getting more enquiries, I would strongly recommend this company as they do exactly what they say which is pushing you up the listings in Google for your chosen keyword! Just brilliant.
Pete and the team at iwebsitez have designed and built an excellent website for me and have been able to reflect my brand perfectly. From brief to the finished product they were helpful, flexible and creative to get my requests done leaving me with a stylish, fully functional site. I would highly recommend them.
This is an amazing service, that i recommend to everyone who wants to break throught the web.
I was a bit sceptical when I first contacted iwebsitez, as I was was ripped off by a previous company who seemed like my project was far too big a project for them and 18 months worth of work, time and money was rendered useless.
After meeting with Pete and the team we decided to proceed and restart our website from scratch - Probably the best decision I have made to date!
Less than 6 months have passed and more has been achieved within this time then the previous 18 month!
Throughout the build the team have been so much more than helpful offering advice and providing solutions to help us get the most out of our site.
On top of the website build I have also purchased a hosting plan and a SEO plan with iwebsites.
I have also registered 33 domains through them. All of these processes were cost effective and simple to do.
I am very excited to getting this project finished over the next month and launching our 1st site, with 7 more to come through out 2015.
Thanks guys - Keep up the good work :)
I can't express enough how good these guys are at there job. Pete and the team are amazing. They genuinely make what vision you have for a website happen plus so much more.
Thanks guys
Professional but friendly service, always quick to respond to emails. They are happy to work with your ideas but will suggest alternatives if they are more beneficial. I would not hesitate to recommend them.
An amazing service! Thank you so much for all your guidance and help. Highly recommended